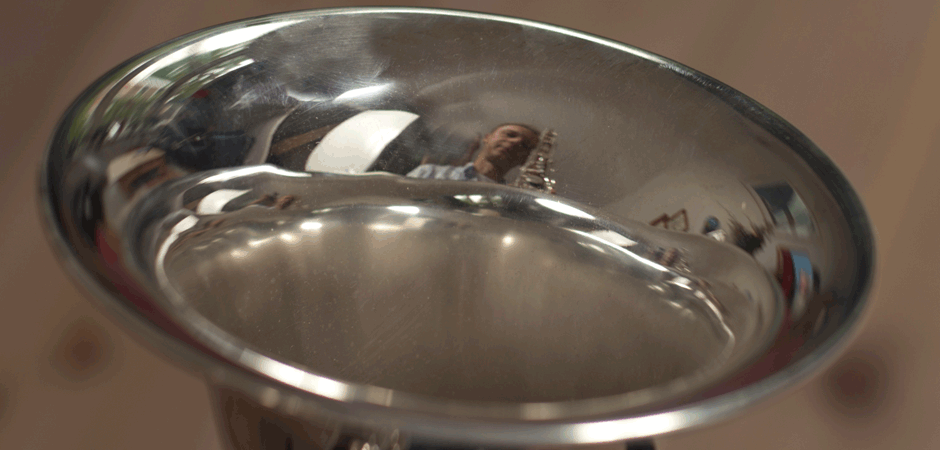 Bass Clarinet
A bass clarinet can scream and roar, lull and whisper, be both aggressive and sugary sweet. It is a wonderful instrument, that deserves a much more prominent position in chamber music than it currently occupies. Fortunately, interest is growing rapidly. During my studies at the conservatory, the bass clarinet was an instrument that people tended to avoid. That was not too difficult, as the school's instrument languished somewhere in a cupboard, in bad repair and held together with elastic bands. Sound would only come out if one pressed hard upon the keys. Whoever was forced to play upon it would feel awkward and clumsy. I did too, but I was drawn to its rich, deep sound, its vibrations; I was fascinated by this instrument.
At the Amsterdam Conservatory, Harry Sparnaay taught me how to handle the bass clarinet in a way that could transform an inelegant device into a true musical instrument, allowing me to tell my musical story. I find it unfortunate that only a small number of musicians ever discover the full potential of this gorgeous instrument, as it is mostly treated as a side profession.
As a musician, I aim to play every single note exactly as I want it to sound, from beginning to end. I aim to place it at exactly the right moment, without letting external factors disturb me. This asks more of an ensemble player than of a soloist, as one is also required to quickly and continually adapt to the other performers, without it affecting the quality of one's own playing.
Contrabass clarinet
In 2010, a wooden contrabass clarinet came across my path. It is a rare instrument that for many musicians is a daunting prospect: a bass clarinet squared! It can be fragile, and has hardly any music written for it. However, I was never one to refuse a challenge. The history of the bass clarinet was thus repeated twenty-five years later: I had to search for the fingering for every note, and to refine and adapt my breathing technique. This instrument does not let the player get away with anything; much progress has already been made, but I know that the instrument can reach further heights.
If we wish to bring the contrabass clarinet to the musical fore, then new works must be composed for it. There are few pieces because there are few players, and vice versa: a vicious circle that I intend to break. I find it extremely fulfilling to work with composers in order to produce new pieces for the contrabass clarinet. They challenge me to get more out of the instrument, and I can demonstrate how its strengths can be realised to their full potential.

"IJsvogel' for solo Contrabass Clarinet and Live Electronics. (comp. and Live Electronics, Wouter Snoei) Jelte Althuis, Contrabass Clarinet
Save